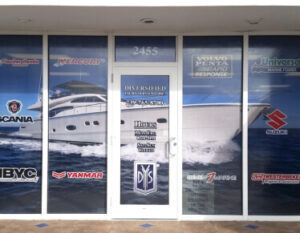 Window & Door Graphics
Vinyl lettering or digitally printed graphics, includes lettering, numbering, or shapes that are individually cut out from a sheet sign vinyl and applied to various solid surfaces.
Some surfaces vinyl lettering will work on include glass, windows, walls, storefronts, cars/trucks, and boats.
Perforated One-Way Film
One way film is a great way to advertise your business on your vehicle or storefront. You can see out, but they can't see in. Often works better than tint for blocking the sun while doubling as advertising! 50/50, 70/30, 65/35 and more.
Our Advantage
We use high performance 3M and Avery-Dennison cast film and our installation crews are 3M and Avery-Dennison trained to ensure a properly installed, long-lasting graphics. We use UV overlaminate to protect